Nature and Landscape Photographers
Jeff Krewson
A collection of photographic landscape and nature imagery taken throughout the western United States.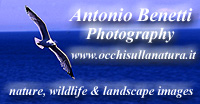 SDG Images
Solo Dio Gloria, To God alone be the Glory. This page by Bill and Christine Fach shows the beauty of Gods creation through wonderful photos of the American nature.
Photo Organisations and Directories
Nature Photographers Online Magazine
An online resource that provides articles and reviews related to nature photography as well as competitions and member galleries.
Other Sites
Byholm - Original Clothing and Gift Items
A shop with original clothing and gift items with artwork by Finnish artist Hanna Byholm. Posters and Framed Prints with nature photography from this site is also available.
Photos from Finland
Fine-art nature and landscape photography from Finland
Copyright (C) 2002-2023 Simon and Hanna Byholm. All rights reserved.